Here at the University of Hull we have an active and diverse squash club that encourages players of all abilities to come down and play. We have an ever growing population that offers casual turn up and play sessions to a more competitive side of leagues and ladders which are open to all students' staff and members of the community.
This year we will be offer a range of sessions and competitions for you get yourself involved with, such as…
Monday King of the Court 6-7pm
King of The Court is similar to turn up and play however will incorporate more of a competitive edge. Players will pay £2.50 which will cover the cost of the light fees and squash balls for the session. How the session works – We have 6 squash courts here at the university and for this session court 1 will be the 'top' court and court 6 will be the 'bottom' court. 2 players then take a court each and battle it out to move up the courts to the top court. This is a fantastic opportunity to play relaxed squash with a variety of players and different abilities, whilst keeping that competitive edge.
Tuesdays & Thursdays 'Turn Up & Play' 12-1pm
Turn up and play session is exactly what it says on the tin. This is an opportunity for student's staff and members of the community, to come down and play squash against people who have a range of different abilities. This session also offers the element of coaching for participants who are wanting to increase their knowledge within the sport and progress their skills. This session costs £2 which includes the court and racket hire as well as the level 2 qualified coach.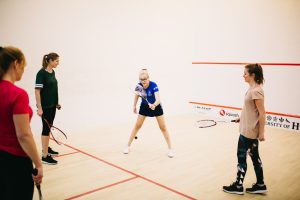 Wednesdays Female Only Squash 6-7pm
This session is exclusively for females who are student's staff or members of the community. This is a great way to try something new in a fun relaxed social environment. This session offers coaching throughout to develop your squash skills. Although coaching is involved the session is at the other end of the scale to 'intense' and is simply lots of fun mini games and drills to kick start your experience in a new sport. This session will cost £2 and will cover the court and racket hire and the friendly qualified coaches. So make sure you come down as we guarantee you will LOVE squash by the end of the session.
Leagues & Ladders
BRAND NEW FOR THE 18/19 ACADEMIC YEAR!!!  We will be running squash leagues and ladders throughout the year for first time this year. This is offer is open to all students staff and members of the community and is completed FREE to get sign up. Players will only have to cover the cost of the court fees for the matches which can be booked through the sports centre reception. This is a fantastic opportunity for all the competitive players out there to play against likeminded opponents of different abilities.
Email a member from Hull Sport for more information.
https://sport.hull.ac.uk/wp-content/uploads/2018/09/squash-2.jpg
1080
1620
Sophie Johnson
https://sport.hull.ac.uk/wp-content/uploads/2019/10/hull-sport-logo-300x211.png
Sophie Johnson
2018-09-05 10:18:08
2020-11-19 09:32:14
Squash at Hull