Struggling to concentrate with exams fast approaching?
April 2022
Struggling to concentrate and exams fast approaching? Well here at Hull Sport we are promoting ways to help alleviate concentration struggles.
We have designed a programme dedicated to suit the upcoming January exam timetable with a range of sports available through the 9th to the 22nd May. Such opportunities are perfect for students to regain control of their concentration and time management in such a busy period.
Sound like something you want to get involved with? Check out our timetable down below and don't forget to get your hands on one of our loyalty cards if you come down to a session.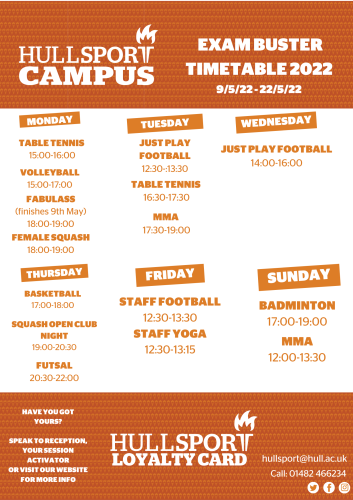 Reasons to come down! Did you know?
There is a significant positive relationship between physical activity and academic performance
Regular physical activity is seen to lead to better brain functioning, due to increased flow of blood and oxygen to the brain as well as the release of chemicals that help develop a positive "can do" attitude
If you have any questions please don't hesitate to contact a member of our team on hullsport@hull.ac.uk. Alternatively, you can follow Hull Sport on our social media platforms on Facebook, Instagram and Twitter @HullUniSport.
https://sport.hull.ac.uk/wp-content/uploads/2021/12/Concentration.jpg
450
1200
Matthew Craven
https://sport.hull.ac.uk/wp-content/uploads/2019/10/hull-sport-logo-300x211.png
Matthew Craven
2022-04-27 10:04:16
2022-04-27 10:04:16
Exam Buster - Concentration